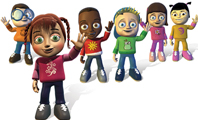 The Media Initiative for Children (MIFC) was developed by Early Years – the organisation for young children (formerly known as NIPPA) in Northern Ireland and Pii the Peace Initiatives Institute in the USA. It combines cartoon media messages around diversity with an early years programme. Together they aim to promote positive attitudes to physical, social and cultural differences amongst young children, practitioners and parents. The messages also address bullying behaviours.
The cartoons are set in a play park and feature characters young children can easily identify with. The messages in the cartoons are reinforced in the early years setting through the use of resources and interactive activities that prompt children to talk about their feelings and attitudes to the issues explored in the cartoons.
There are a range of books, puppets, DVDs, jigsaws, games, cultural posters included in the resource. It supports many aspects of CRED work in the classroom.